How to Make your Reservation
Airport and Transfer Information
Hotel information regarding the next conference will be posted here when it is available.

More information will be available soon.

International Patent Information
Conference & Exposition
2018 Conference Postponed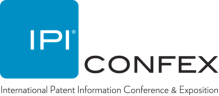 I
MPORTANT:
The only way to make hotel reservations for the IPI-ConfEx conference is to contact the
hotel directly, either by visiting the hotel link provided above or calling the official hotel phone number.
Please be aware that the IPI Organisation is not working with a booking agency or broker for hotel
reservations.
No details are currently available.