Preliminary Programme Schedule
Programme subject to change at any time
.

International Patent Information
Conference & Exposition
4 - 7 March 2018 - Lisbon, Portugal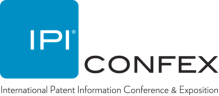 IPI-ConfEx:
Best Practices in Patent Information Management and Searching
Below is an overview of the conference schedule.
(Timings are subject to change)
Sunday 4 March 2018
14:00 - 18:00

Educational Vendor Workshops
18:00 - 19:30

Welcome Reception & Exposition
Monday 5 March 2018
09:00 - 17:00

Conference Sessions & Exposition
18:00 - 21:00

Conference Gala Dinner &
Networking Event
Tuesday 6 March 2018
09:00 - 17:00

Conference Sessions & Exposition
Wednesday 7 March 2018
09:00 - 15:00

Conference Sessions & Exposition
Hear from industry's most elite speakers and join in the discussions yourself with the ever-popular
interactive sessions. Also, visit the exhibit hall where you can meet with industry's leading product and
service providers, get live demos and keep up to date with the very latest tools and products on the
market. IPI-ConfEx has everything under one roof!
CALL FOR SPEAKERS FOR 2018
Deadline for Receipt of Papers/Posters:
31 October 2017
*
*Papers may be considered after these dates, depending on speaking space availability.
More details >
Special Announcement for 2018
We are delighted to announce that Lucy Antunes (formerly Lucy Akers) will be
leading the planning and development of the 2018 IPI-ConfEx conference
programme. Lucy is well known and widely respected for her extensive experience
and knowledge of the patent information arena and for her past contributions and
current involvement with patent information professionals and user groups. For
example, among other accomplishments, Lucy has served as a former Chair of the
Patent Information Users Group (PIUG) for two consecutive terms.
This background, together with her visionary perspectives and passion for the industry, makes Lucy

the ideal person to compile a stimulating, practical and educational line-up of sessions and speakers
for the forthcoming IPI-ConfEx. Lucy is excited to be taking on the responsibility of this role and is

looking forward to working with a wide range of contributors in addressing the key challenges and

opportunities that exist for patent information managers and search professionals in the current

technical and business climate.